Steve Mason Returns, Flyers Even Series Once More
On Friday night within the confines of the Wells Fargo Center, the Flyers battled to beat the Rangers in Game 4 by a score of 2-1. Philadelphia goaltender Steve Mason played very well in his playoff debut with the team and was a key reason why the Flyers won.
After the Flyers lost Game three, Claude Giroux told the media that he guaranteed his team would win Game 4 and even up the series: they did just that. The game started out rough like any other playoff game and each team came out with a lot of intensity. New York would strike first though on a goal from Dominic Moore after he barely beat Mason to the other post after a wraparound shot. A few minutes later, Flyers fans would erupt as Matt Read put Philadelphia on the board after a beautiful assist from Jason Akeson. Akeson, playing in just his fourth Stanley Cup Playoff game, has really been showing why he deserves to be with the Flyers. The score would remain tied after the first period.
New York came out strong in the second period but once again, Mason stood tall. The Flyers as a whole stood their ground and it paid off. Jake Voracek deflected a shot from Brayden Schenn past Rangers goalie Henrik Lundqvist to give the Flyers a 2-1 lead on a power play goal. That would be all Philadelphia needed to defeat the Rangers and take Game 4. Steve Mason earned his first career playoff win and the Flyers will take the series back to New York with Game five on Sunday afternoon at noon.
For a full game recap click here.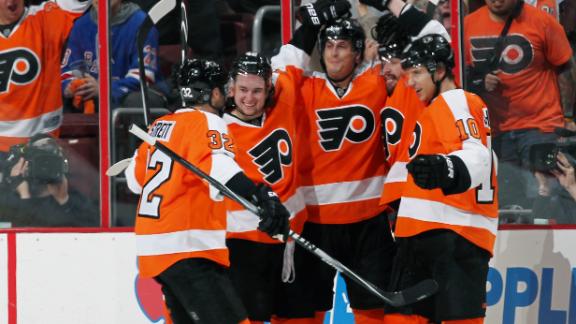 Comments
comments