Team USA's men's basketball squad captured the gold medal in the 2014 FIBA World Championships on Sunday with a 129-92 win over Serbia. Guards Kyrie Irving and James Harden led the way, combining for 49 points on 18-24 shooting from the floor (9-11 3pt). It is the second straight gold medal for team USA at the FIBA World Championships.
Throughout training camp and tryouts, head coach Mike Krzyzewski and his team have battled adversity. First, they went into camp without big names such as LeBron James, Chris Paul and Kevin Love. Next came the gruesome injury that knocked top swingman Paul George out, which was followed by Kevin Durant, the team's best player, announcing he would drop out. This team would now be led by Stephen Curry, James Harden and Anthony Davis. Left with some talented guards and a lot of questions on the inside, Coach K responded as he usually does- with results.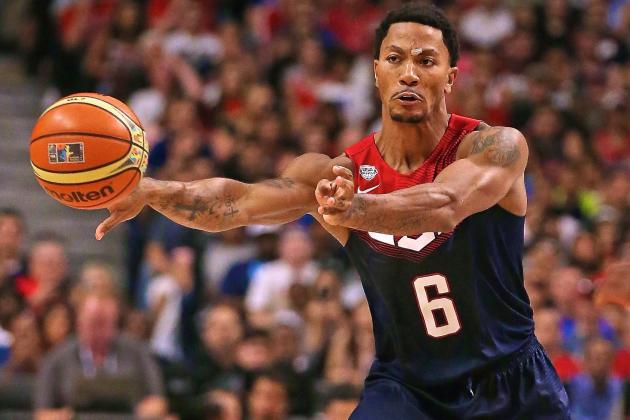 Starting with a 114-55 drubbing of Finland to open the tournament, team USA rolled through the rest of group play, finishing without a loss, and only one relatively close game (98-77 win over Turkey).
Then after an 86-63 Round of 16 win over Mexico, and a 119-76 quarterfinal win over Slovenia, they were set for semi-final showdown with a strong Lithuanian squad. Shaking off a slow start (43-35 halftime lead), team USA rallied to outscore Lithuania by 19 in the third and cruised to a 96-68 win.
Their opponent in the final was supposed to be the host country, Spain. But they bowed out in the quarter-finals to a pesky France squad that held them to 52 points on 32.3% shooting. Serbia then bested France in a 90-85 game that saw Serbia almost blow a 15 point 4th quarter lead. Nonetheless, the stage was set for the gold medal game. However, instead of getting off to their usual slow start, the young core of team USA raced out to a 35-21 first quarter lead. They then pushed it to 67-41 by halftime, and had also pushed out any doubts that they would not win this game. The 129-92 final score finally allowed the young men of team USA to celebrate all of their hard work. Kyrie Irving was named the tournament's Most Valuable Player.
The United States has now automatically qualified for the 2016 Olympics in Brazil. Even with all of the adversity faced by this young basketball squad from the beginning, they proved once again that the U.S. is still top dog in the basketball world.
Comments
comments