Kings Steal Game 1 with Overtime Victory
Wednesday night in Los Angeles marked the start of the 2014 Stanley Cup Final pitting the Kings against the New York Rangers in the last battle for the ultimate prize, the Stanley Cup. LA would win the game 3-2 in overtime. Before the series even started the hot topic of conversation was each team's goaltender. LA's Jonathan Quick and New York's Henrik Lundqvist are arguably two of the NHL's top goalies and everyone is expecting them to put on a show. Game 1 was nothing short of that.
The game started out fast with each team trying to gain the upper hand early. With just under six minutes left in the first period Benoit Pouliot sprung out on a breakaway then fired a shot past Quick to put the Rangers up 1-0. New York then had a 2-0 lead under two minutes later courtesy of a shorthanded goal from Carl Hagelin. Hagelin, one of the fastest skaters in the league, blew past LA's defenders to score his goal after the puck deflected off of a King's skate. LA would not go quietly though as Kyle Clifford made it 2-1 with three minutes left in the period. The game would only get better from there.
LA started the second period with a good amount of momentum which would prove to pay off in the end. Defenseman Drew Doughty pulled off an amazing, through the legs move around a Ranger defender and then put the puck in the back of the net to make it a 2-2 game. Both teams had incredible scoring chances in the last 30 seconds of regulation but the score would stay the same as the buzzer sounded. Overtime was needed to decide Game 1.
As it turns out, not much overtime was needed. LA's Justin Williams got the puck in the slot after a Rangers mishap and beat Lundqvist up high to score the game winning goal. The score went final and the Kings has completed the comeback to beat New York in the series opener 3-2. Game 2 of the Final will air on Saturday at 7 p.m. on NBC.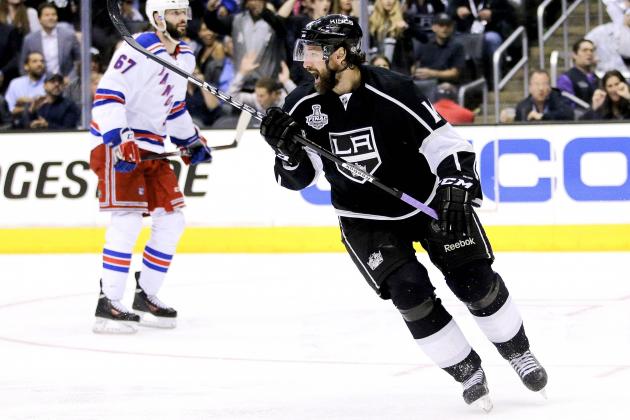 Comments
comments