Fantasy Football Start/Sit Week 11: Mike Vick Out, Should Vince Young Be In?
Every week of the 2011 NFL season I will be putting out an article of the top "starts" and "sits" for the upcoming week in fantasy football. Keep in mind that no one can predict what will happen on Sunday's and I encourage everyone to make their own decisions, but hopefully I can provide some insight. Players I deem as good "starts" for the week I think will have a better than projected week and should find a way into your starting lineup. On the other hand players I name as "sits" I personally would rather find room on my bench in favor of someone else. Of course when it comes down to week to week decisions you always start your studs, and just because I think Vincent Jackson is "sit" worthy doesn't mean you necessarily have someone worth starting over him. Take it for what it is worth and good luck this week.
QBs
-Carson Palmer(start): After a nightmare of an offseason that led to Carson Palmer "retiring," the former Cincinnati Bengal found his way back onto the field when the Oakland Raiders signed him to fill in for injured Jason Campbell. Palmer has never been much of fantasy stud, but with running back Darren McFadden out, he has found ways to post two respectable fantasy weeks. Sunday, Palmer will take on the Vikings who are currently giving up the second most points to opposing fantasy quarterbacks. This is the same Vikings defense that allowed Aaron Rodgers to throw for 250 yards and 4 touchdowns, or the equivalent to 28 fantasy points. In case you've been living under rock all season, it is hard to even fathom how good Aaron Rodgers is playing. So to put 28 point expectations on Carson Palmer would be foolish, but even if Palmer is half as good as Rodgers, owners are still looking at a 14 point week with tons of upside.


-Josh Freeman(start): Josh Freeman is coming off an ugly performance against the Houston Texans throwing for only 170 yards and three picks. As much as Freeman probably doesn't even want to pick up a football coming off that dud, he will be asked to throw a lot this weekend against the Packers. The Packers actually have a respectable secondary led by Charles Woodson. What gives opposing quarterbacks the chance to have a solid day against them is the pure quantity they are asked to throw. With the Buccaneers bound to fall behind early, Freeman will be forced to heave the pigskin downfield a good 35-45 times this game. It may not be pretty. It may just be garbage time touchdowns. But when it comes to fantasy, points are points.
-Vince Young(sit): Vince Young may finally get the opportunity to make his "dreams" come true going into week eleven where he will most likely be asked to step in for Mike Vick. Little does Young know he is being thrown into more of a nightmare. Young has been a viable fantasy start at times in the past, but he is far from elite even with his rushing abilities. Keep in mind Young has one throw this year and unfortunately it was to the opposing team. Although DeSean Jackson should be back on the field, the Eagles seem likely to be missing receiver Jeremy Maclin who is dealing with an AC joint issue in his shoulder. Maclin is also dealing with a lingering hamstring problem. Obviously being thrown into an emergency situation isn't ideal, and having to travel to New York to face a stout Giants defense won't do any favors for Young either. If Mike Vick has struggled to run this offense efficiently, I don't see how Vince Young is going to be any different. Don't get too cute with this one, leave Young on the bench.
[poll id="2″]
-Andy Dalton(sit): Andy Dalton has had an impressive rookie season and has shown many that he has the intangibles and the intelligence to make it in this league long term. Although he hasn't been amazing for fantasy purposes, he has become a guy you can play when the matchup is right. Unfortunately taking on the Ravens defense is about as bad of a matchup as you can get as a quarterback. Making matters worse, A.J. Green injured his knee last week against the Steelers and has yet to be cleared for play. For Dalton to have even the slightest hope of producing this week Green must be on the field. With Drew Brees, and Ben Roethlisberger on a bye and Matt Schaub, Mike Vick, and Matt Cassel getting injured last week, many owners might be searching for a deep flier at quarterback. Trust me you can do better than Andy Dalton this week.
RBs
-Reggie Bush(start): Reggie Bush has turned it on the past three weeks. Maybe it has been the injuries to Daniel Thomas. Maybe it was a couple of lucky touchdowns. Heck, maybe he has been trying to win Kim Kardashian back. Whatever reason may be, Bush has given owners three consecutive respectable fantasy weeks. In those three weeks he has averaged an impressive 5.8 yards per carry. This is up a whole two yards from the first seven weeks of the season in which he averaged 3.8 yards per carry. On top of that, Bush has tallied 3 of his 4 touchdowns this year in the past three weeks. Bush will be given a chance to continue this hot streak this weekend against the Bills, who have been torched the past two weeks by running backs to the tune of 293 rushing yards and 3 touchdowns. The yardage total should be there for Bush this week and if he finds a way to score owners will be happy. If you had Kim Kardashian watching you play you'd make sure to find a way into the end zone too, wouldn't ya?


-Marshawn Lynch(start): Marshawn Lynch has been running with an attitude the last two weeks. This week Lynch will take on the St. Louis. Rams porous run defense. Although some may be concerned with the 55 carries he has amassed the past two weeks taking a toll on him, the guy is an absolute animal and doesn't show signs of slowing down. Lynch now has three straight weeks in which he has found the end zone. Look for Lynch to continue to put his team on his back, and probably be a big boost to many fantasy teams this weekend.
-Chris Johnson(sit): Chris Johnson has finally shown some signs of returning to his CJ2K form. Last weekend Johnson produced his second consecutive week with over a 100 total yards from scrimmage. Unlike many, I am not too sure I'm buying into it. Last week's 130 yard rushing performance was against the Carolina Panthers who are giving up the most points to opposing fantasy running backs. Not only was the matchup favorable but Johnson received 27 carries and 31 total touches which was a whole 10-15 more then what he had been averaging the past 4 weeks. This week Johnson will take on Atlanta, who over the past 6 weeks have really found ways to shut down opposing running backs. Chances are you are going to start Johnson, but don't be surprised if he disappoints.
-Beanie Wells(sit): If I told you Beanie Wells is the number 12 ranked running back on the season in standard fantasy leagues, you would start him. If I told you Beanie Wells only has one game over 100 yards rushing, 3 of his 7 touchdowns came in that same game, and that he only has 2 receptions since week one, you would probably think again. Beanie really hasn't been great since his bye week. Yes he has been banged up, but reports came out last week that he felt the best he has in a long time and how did he back that up? Wells ran for 62 yards on 23 carries against a miserable Philadelphia Eagles run defense. If Wells couldn't produce against one of his most favorable matchups of the year, what makes you think he deserves to be in fantasy lineups taking on the number one ranked run defense in the San Francisco 49ers? The 49ers are the only team in the NFL that have not allowed a rushing touchdown this season. Things don't look good for Beanie.
WRs
-Plaxico Burress(start): Plaxico Burress is by no means the same receiver that he once was but what does remain is his insane red zone ability. At 6'5", with a 36 inch vertical, and solid hands, Burress easily validates himself as one of the most potent red zone options in the league. His four red zone targets in week 10 support this. Against the Broncos secondary which is allowing the fourth most points to opposing receivers, one of the Jets receivers is bound to have a big game. It will likely be Burress, and here's why. The Broncos are giving up the NFL worst 2.0 receiving touchdowns per game, which plays to Plaxico's strengths. On top of that Champ Bailey will likely matchup on Santonio Holmes for most of the game so Sanchez will have to look elsewhere.


-Earl Bennett(start): In just two weeks Earl Bennett has taken over the role as the Chicago Bears lead wideout. Bennett posted 11 receptions, 176 yards receiving, and a touchdown in these two weeks, and definitely looks like Cutler's most prominent receiving option outside of Matt Forte. This week Bennett plays the San Diego Chargers who have been pretty bad against the pass as of late allowing an average of over 2.25 receiving touchdowns a game in the last four games. Forte will always be the star of the offense, but don't be surprised if Bennett provides some real second half value down the stretch for fantasy owners.
-Vincent Jackson(sit): Vincent Jackson has been the definition of a "feast or famine" player in 2011. In a standard scoring fantasy league his point totals for the year are as such: 3, 29, 6, 16, 3, 1, 4, 32, 2. Two huge weeks, one solid performance, and six absolute disappointments for a receiver of his caliber. The connection between Jackson and Phillip Rivers has always been one of the best in the league, but for some reason it has been inconsistent this year. Much of this is due to River's struggles turning the ball over. But it can't all be put on Rivers as many saw Thursday night when Rivers tossed a jump ball up for Jackson to make a play on and he simply just gave up on it, resulting in an easy pick. This week, Jackson will likely take on Charles Tillman, who is no slouch of a cornerback. The upside for Jackson is enormous, but lately he has been more of a liability.
-Eric Decker(sit): I praised Eric Decker last week naming him a start for the week and it paid off as Tebow connected with him for a 56 yard touchdown on one of Tebow's only two completions. In order to be successful, it is clear the Bronco's plan on shifting to an option offense in order to put Tebow into a favorable situation. If that means Tebow is only going to be attempting 8 passes a week, then Decker's fantasy value will clearly take a hit. Not to mention the New York Jets are coming to town this weekend and you know what that means. A nice weekend getaway to Revis Island is booked for Mr. Decker.
TEs
-Jason Witten(start): Jason Witten has slowed up a little bit as of late but he is still ranked as the number four fantasy tight end on the year. One thing is for sure though; he is guaranteed to get 5-7 catches a week as he remains one of Romo's favorite targets. With Miles Austin out, his targets should see a slight up-tick, and as always he is a big red zone target. The Redskins are pretty good against the tight end, but this shouldn't scare owners away from using Witten in this divisional matchup.


-Tony Gonzalez(start): Tony Gonzalez is a hands down Hall of Famer. As one of the best players to ever play the position, Gonzalez has put up a respectable year for his age. Coming off two straight performances with touchdowns, Gonzalez will take on Titans who always allow the tight end to thrive. If Gonzalez can find the end zone for a third consecutive week, he will for sure be one of the top scoring tight ends in week eleven.
-Dustin Keller(sit): Dustin Keller simply doesn't get enough red zone looks for the Jets ever since the addition of Plaxico Burress. This week Keller takes on Denver who have only allowed one tight end to score double digit fantasy points, and have four weeks in which they held opposing tight ends to under 1 fantasy point. The matchup simply isn't there for a tight end who has already struggled to post big fantasy games.
-Jermaine Gresham(sit): Jermaine Gresham returned from his hand injury last week and managed to catch a touchdown pass. Owners should still be weary of the hand injury, especially going against the Baltimore Raven's defense this week. The Ravens have been the best team against tight ends this year allowing a scary average of just 3 fantasy points a week. Of course you can't really blame anyone for not wanting to establish a presence in the middle of the field with Ray Lewis and Terrell Suggs running around.
D/STs
-Cowboys(start): The Cowboys have really turned it on down the stretch, and Rob Ryan's defense has a lot to do with it. After a huge performance in which they allowed the number one offense in the league to only score 7 points, the Cowboys get a much easier matchup against the Washington Redskins this week. Since week seven when the Redskins lost Chris Cooley, Santana Moss, and Tim Hightower to injury, the Redskins have given up 26, 11, and 11 fantasy points to opposing defenses. There is a lot of upside here for the Dallas defense.
-Eagles(sit): This isn't so much about how their defense is playing as opposed to how the team in general is playing. With Vince Young the starter, it is worrisome that the Eagles defense could find themselves spending a lot of time on the field against the Giants. In their week three matchup the Eagles allowed 29 points and didn't force a single turnover. With Ahmad Bradshaw out, Jacobs will likely get the start again and his big body and pounding running style is exactly what this defense struggles with.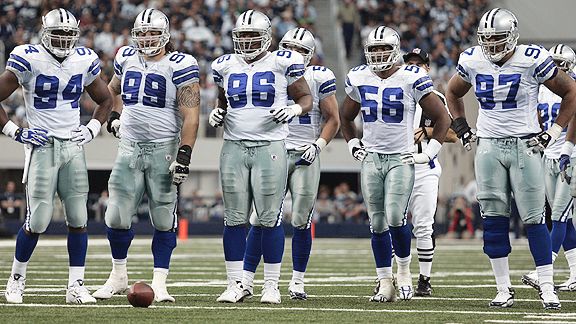 Comments
comments