September 19 College Football Roundup
As usual, Saturday did not disappoint the fans of college football. There were numerous games that were all very close and exciting to watch. Here is a quick roundup of scores for the college football fan who may have missed a game or two…
As usual, Saturday did not disappoint the fans of college football. There were numerous games that were all very close and exciting to watch. Luckily, in my house we enhanced our set-up to be able to watch 4 games simultaneously in one room, two being in high definition. As for performances, there were many that could have saved seasons, cost teams championship hopes, and put a coach even farther on the hot seat. Not to mention Boise State rolling to another win Friday night and continuing to impress and dominate in a non BCS conference.
We'll start with the early games Saturday. Penn State won another game by double digits beating Temple 31-6; however, Penn State did not perform to the level they should have. They looked very vulnerable at times, except for Evan Royster who dominated the Temple defense.
Michigan also impressed by scoring 45 points against a lesser opponent in Eastern Michigan. The fact that Rich Rodriguez's offense is starting to score at will is a very good sign for Michigan fans. Also from the Big 10, Minnesota gave California a good fight but eventually lost 35-21. Ohio State rolled over Toledo 38-0; however, OSU fans have to worry about Terrelle Pryor, who threw two more interceptions in the win. In addition, Michigan State took Notre Dame to the wire in South Bend. Michigan State had a wide open receiver in the end zone which could have ensured a victory; however, quarterback Kirk Cousins overthrew the pass and ended up throwing a game ending interception on the next play. Notre Dame took a knee and won 33-30. Had Notre Dame lost, Charlie Weis' job would have surely been on the line. Notre Dame would have been one and two three games into a season when many expected Notre Dame to lose possibly only 1 game.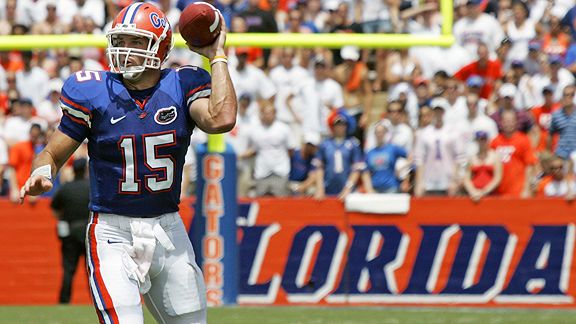 #1 Florida was also in action Saturday. Their victory over nemesis Tennessee was not as dominating as many had predicted. The Tennessee defense looked impressive by holding Florida to field goals on multiple drives. In the end, the number 1 team in the nation was too much for the Volunteers to handle and the gators won 23-13.
#12 Oklahoma bounced back to win 45-0 against Tulsa. Filling in for Sam Bradford, quarterback Landry Jones accomplished something Bradford never has, throwing for 6 touchdown passes. #4 Alabama also rolled 53-7 over bottom 10 opponent North Texas.
In the ACC #13 Virginia Tech squeaked out a win over #19 Nebraska 16-15 on a last minute touchdown pass from Tyrod Taylor. North Carolina also won 31-17 over East Carolina.
In the late games, #2 Texas beat Texas Tech in 34-24. #16 Oklahoma State and head coach Mike Gundy bounced back to a 41-24 win over Rice. #9 LSU rolled over Louisiana Lafayette 31-3. #15 TCU also completed another dominant win over Texas State 56-21.
Also in action were #3 USC and #7 BYU. USC faced their old offensive coordinator Steve Sarkisian, now head coach of the Washington Huskies. The Huskies who did not win a single game in 2008 beat the mighty USC 16-13. Also losing hopes of a BCS title on Saturday were the players of BYU. Florida State rolled into Provo Utah and dominated BYU 54-28.
Finishing up this Saturday in college football, #17 Cincinnati beat last year's Cinderella Oregon State 28-18. #23 Georgia beat SEC opponent Arkansas in a shootout 42-41. Lastly, Oregon gained a convincing win 31-24 over 18th ranked Utah.
As always with college football, it did not fail to excite for those who watched. There were dominating performances, unexpected upsets, and close well fought games. For those of you who missed the games Saturday hopefully this roundup wraps everything up for you!
Comments
comments