Potential NFL Hall of Famer gets inducted into Cardinals Ring of Honor
Michael Bidwell, the president of the Arizona Cardinals, made a big announcement on Wednesday. Kurt Warner, the team's quarterback for five seasons, will be inducted into the Cardinals Ring of Honor at University of Phoenix Stadium. The ceremony will take place at halftime of Arizona's first game, a Monday night encounter against the San Diego Chargers.
Warner played collegiately at the University of Northern Iowa and became the starter during his senior season. Despite being undrafted in 1994, Warner was invited to try out for the Green Bay Packers. After getting cut, he caught on with the Iowa Barnstormers of the Arena Football League. Following a three year stint with the Barnstormers, he joined the Amsterdam Admirals of the NFL Europe League.
As a player in Amsterdam, Warner signed with the St. Louis Rams. After seeing limited action during his first season in 1998, he became the starting quarterback in 1999 after Trent Green tore his ACL. In his second season, Warner passed for 4,353-yards and 41 touchdown passes. The Rams won 13 regular season games and won Super Bowl XXXIV. Warner was voted as the game's Most Valuable Player, passing for 414-yards, a Super Bowl record, and two touchdowns.
Warner spent the next four seasons in the Gateway City, leading the Rams to another Super Bowl in 2001 before moving to the Big Apple. He spent one season with the New York Giants, primarily serving as a teacher to rookie quarterback Eli Manning. Prior to the 2005 season, Warner signed a one-year, $4 million contract with the Cardinals, a team who had not won a championship since 1947 and posted only one playoff win since that time.
Head coach Dennis Green immediately named Warner as his starting quarterback, but he did little to improve the Cardinals mediocrity. Over the course of the next three seasons, Arizona failed to post a winning record and many fans and football experts believed that Warner had nothing left in the tank. Seemingly, out of nowhere, he came back with a vengeance and transformed the Cardinals into a winning organization.
In 2008, the ageless wonder, Warner, passed for 4,583-yards and 30 touchdowns while leading the Cardinals to their first division title since 1975. Arizona cruised through the playoffs and advanced to their first Super Bowl appearance in franchise history. In Super Bowl XLIII, Warner torched the Steelers defense for 377-yards and three touchdown passes. Only a great touchdown catch by Santonio Holmes in the final seconds prevented Warner from winning his second ring.
The 2009 season would be Kurt Warner's final hurrah. He passed for 3,753-yards and 26 touchdowns as he led the Cardinals back to the playoffs. In the NFC Wild Card Game against the Packers, Warner completed 29 of 33 passes for 379-yards and five touchdowns in a 51-45 overtime shootout victory. The next week against the Saints, he was knocked out of the game. Two weeks after the loss to New Orleans, Warner announced that he was retiring for good.
During his 12-year career, Kurt Warner passed for 32,344-yards and 208 touchdowns. He became a four time pro bowler, a three time NFL MVP, and a two time All-Pro. Ironically, Warner's induction ceremony into Arizona's Ring of Honor this September and his first year of eligibility into the Pro Football Hall of Fame came hand in hand. Warner is slowly becoming recognized for his accomplishments and he deserves everything that comes his way.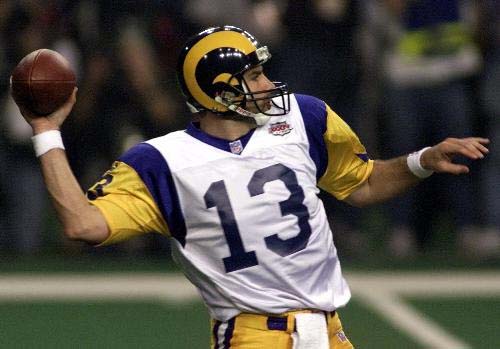 Warner during his tenure with the Rams
Comments
comments