Lundqvist, Rangers, Not Dead Yet
Down three games to none, the New York Rangers played all three periods like a desperate hockey team. The Rangers had to hang on for dear life by holding off a furious comeback attempt by the Kings in the third period to win their first game of the Stanley Cup Finals, 2-1. New York's performance was more grit than glamour, but the win is something to build on for Game five.
The Rangers drew first blood when John Moore's shot from the blue line tipped off of Benoit Pouliot's stick and into the net, just below the crossbar, for a 1-0 lead. Nearly six and a half minutes into the second period, Derek Stepan's shot hit off of Chris Kreider's stick. The deflection went between Jonathan Quick's leg and Martin St. Louis was there to shoot the puck into an open net for his eighth goal of the playoffs.
A few seconds after St. Louis' goal, New York's good fortune continued when Tyler Toffoli was called for slashing. During the Rangers man advantage, Dan Girardi's stick broke during a shot attempt, causing a turnover. Kings captain and right wing, Dustin Brown, gathered the puck and scored on a breakaway to cut the New York lead to one goal.
With the score still 2-1 in the third period, LA threatened with an all-out assault on Henrik Lundqvist. The Kings outshot the Rangers, 15-1, in the game's final twenty minutes, but King Henrik protected the lead, and a possible LA sweep, by stopping shots from left to right. The Kings more than doubled New York's offensive output, outshooting the Rangers, 41-19. However, Lundqvist's goaltending proved to be the difference.
LA will have to wait at least one more game before they can hoist the Cup while New York has the opportunity to pull within a game of tying the series. Game five will take place at the Staples Center on Friday at 8 p.m.
Game notes
New York's Game four victory proved to be a landmark win as they tied a league record by winning a home game in 15 consecutive playoff series, a streak that dates back to 2007. Meanwhile, Pouliot's goal broke Jonathan Quick's shutout streak of 132 minutes and one second. The last goal that was scored on Quick took place during the second period of Game two, when Derick Brassard notched his sixth of the postseason.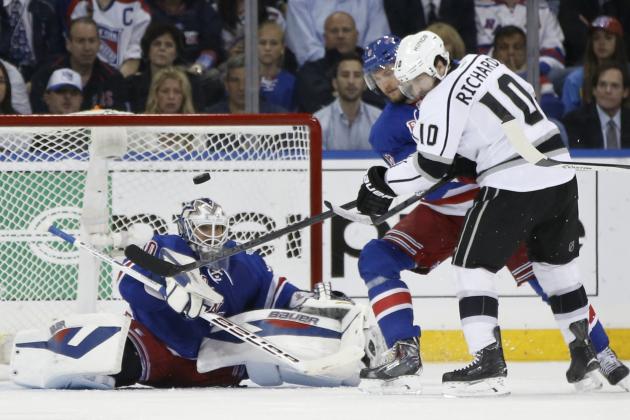 Comments
comments