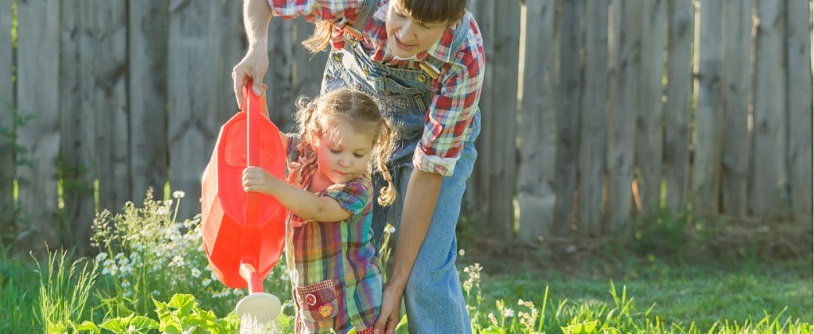 *Credit PSECU
*Editor's note: This year-long series about financial literacy is sponsored by PSECU.
July 08, 2022
Have you recently dug into gardening? Or are you thinking about getting started? There are many benefits to this hobby, such as spending time outdoors, eating healthy, and getting exercise.
While starting a garden from scratch can be expensive, it usually pays off the more you grow and harvest food. However, some produce is less expensive to grow than others.
Let's start with vegetables to stay away from. Because of their high initial cost plus the need for more expensive fertilizers, you'll want to steer clear of strawberries and asparagus. These plants also require added care to keep them free from pests and diseases. When you look at the big picture, your time and money would be better spent on fruits and veggies that are easier to grow, like the ones on our list below.
Is It Cheaper to Grow Your Own Fruits and Vegetables?
Many people wonder if gardening will save them money on subsequent grocery trips. This is one case where the promise does live up to the hype over time. Growing many fruits and vegetables is fairly easy and costs just a few dollars.
Of course, it can take some time to recoup your investment. You may have to put in an initial investment for soil, containers, and fencing. If you choose plants that don't produce immediately, such as grapes vines or a fruit tree, then you may not see the "fruits" of your labor for a few years.
Let's take a look at what your other investments might be and how they can impact the return on investment of growing your own food.
Soil Preparations, Fertilizer, and Planters
Most fruits and vegetables require high-quality soil and fertilizer. To get the soil ready to grow your plants, you may need to add:
Peat moss
Sandy soil
Compost
Manure
For a small garden that makes enough produce for a family of four, a cubic yard of soil and fertilizer is plenty. That's about 10 feet x 10 feet. You probably won't spend more than $100 on topsoil. You may want to test your soil to ensure optimal growing conditions. Soil fertility tests include checking pH levels in addition to reporting on amounts of other chemicals. A standard soil test kit is $9, with other tests available for additional fees ranging from $5 to $15. Some greenhouses offer free soil testing.
Planning to grow your veggies on your patio? Typical planters will cost anywhere from $5 to $30 or more, depending on the quality of the container and where you shop.
Best Vegetables to Grow to Save Money
Once your soil is ready, you can choose your vegetables. You'll want to find the ones that will help maximize your savings the most.
Remember that they should be vegetables your family will eat. If you purchase a cheap veggie, such as zucchini, but your family refuses to eat it, then you won't actually save money.
You'll also need to consider volume. Paying less money for a plant that will only produce one or two crops may not make sense. Instead, look for plants that produce a great volume of food.
Your Top Fruit and Veggie Planting Options
The fruits and vegetables listed below offer the perfect combination for bargain hunters. They're inexpensive to buy, have a high yield, and won't take much time to cultivate.
1. Tomatoes
Most tomato plants will produce at least eight pounds of tomatoes. Each plant costs $5 or less. Buying that same amount at a store will cost you significantly more.
2. Zucchini and Summer Squash
Slightly less productive than tomatoes, these plants make the list because they offer a long growing season and frequent crops. Best of all, you can freeze zucchini and squash to use months down the road, meaning they won't go to waste. You can purchase a packet of seeds for less than $3, which will produce six to ten pounds of these vegetables.
3. Leaf Lettuce
For sheer volume, you can't beat lettuce. You can eat salad for lunch and dinner, and one plant will typically produce a new harvest every two weeks. Seeds cost less than $3, and from one packet, you can get enough to make a salad daily for more than a week.
4. Green Beans
Plant them on a fence line and watch them grow quickly. Plants yield dozens of beans, and they make a hearty side dish. Three plants cost about $6.25 total, and they can produce about six pounds per plant.
5. Herbs
You can purchase herb seed packets for less than a dollar, and most of them grow year after year. The best herbs to plant are thyme, mint, and basil because they produce large bounties. You can get several pounds apiece from one packet, which would cost you double that at the store. For example, bachelorarbeit schreiben lassen conducted an experiment. They grew parsley and microgreens at home and came to the conclusion that this is a great option for greens lovers.
6. Berry Bushes
Buying blueberries in stores gets expensive, as they average $5.25 per pound. Make sure you buy at least three bushes because they need to cross-pollinate. While growing your own berries will require a higher upfront investment, your bushes will produce year after year.
You can buy three blueberry bushes for as low as $40. They will produce five to seven pints per year. If you bought that fruit at the store, it would cost you about the same as the initial investment in the bushes — but over the coming years, you will save that much each year.
Be patient with your garden, and soon you'll reap the returns. If you'd like to read more frugal tips, check out other posts on our blog.
The content provided in this publication is for informational purposes only. Nothing stated is to be construed as financial or legal advice. Some products not offered by PSECU. PSECU does not endorse any third parties, including, but not limited to, referenced individuals, companies, organizations, products, blogs, or websites. PSECU does not warrant any advice provided by third parties. PSECU does not guarantee the accuracy or completeness of the information provided by third parties. PSECU recommends that you seek the advice of a qualified financial, tax, legal, or other professional if you have questions.
Sponsored By PSECU
Comments
comments