Flyers Rally From Behind to Cap off Crucial Weekend
Coming off a loss their first game back from the Olympic break, the Flyers battled in back to back games over the weekend in which they came out victorious. Saturday, the New York Rangers came to Philly only to be stifled by goalie Steve Mason and the rest of the Flyers. Mason made 33 saves en route to a 4-2 victory for the team. The Flyers scored twice in a span of only a minute and six seconds in the first period. New York would tie the game in the second period but the Flyers' power play would be the difference maker. Wayne Simmonds recorded his 10th power play goal of the year to make the score 3-2 late in the second. Simmonds' tallies on the man advantage rank among the league's best this season. Simmonds also recorded an assist in the game. The third period would only see one goal in the form of an empty netter for the Flyers off the tape of Luke Schenn. It was a much needed win as the Flyers still stayed a step ahead of the Rangers in the standings.
Sunday afternoon was Hockey Day across America and the Flyers put on a show for all to see. Philadelphia met the Washington Capitals at the Verizon Center in D.C. for NBC's Game of the Week which was nationally televised. The game had playoff intensity to it because each team knew that whoever won would take over sole possession of third place in the Metropolitan division. Through two periods the Flyers were looking at a two goal deficit against them as the Caps led 4-2, but thanks to a five minute power play the Flyers would get the momentum they needed. Jakub Voracek ripped a slap shot past Caps' goalie Braden Holtby to get the Flyers within one with just under nine minutes left in the game. Then, with only 1:05 left in the game and Mason pulled Flyers captain Claude Giroux tied the game 4-4 to send the game into overtime.
The puck dropped for overtime and the Flyers wanted to complete the comeback. Vincent Lecavalier took the puck up the left side of the ice, fired a shot past Holtby, and the Flyers had won the game. Philadelphia had recorded its 11th third period comeback this season which is a new franchise record. The Flyers not only stayed in third place but moved up to second place ahead of the Rangers due to them losing Sunday night. Wednesday Mar. 5 brings the second installment of the home and home with Washington for the Flyers and another important game in the playoff race.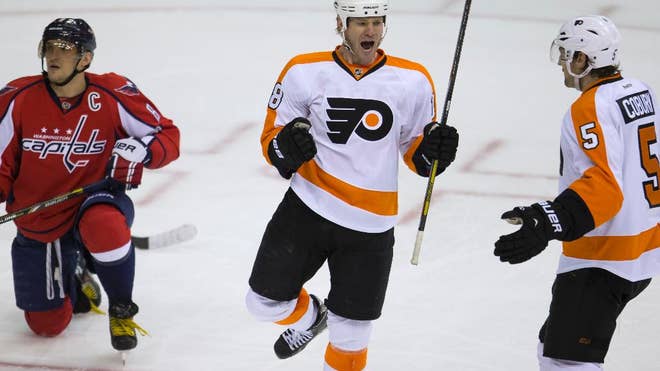 Comments
comments