Fantasy Football Start/Sit Week 5: Will Rashard Mendenhall be ready for Sunday?
Every week of the 2011 NFL season I will be putting out an article of the top "starts" and "sits" for the upcoming week in fantasy football. Keep in mind that no one can predict what will happen on Sunday's and I encourage everyone to make their own decisions, but hopefully I can provide some insight. Players I deem as good "starts" for the week I think will have a better than projected week and should find a way into your starting lineup. On the other hand players I name as "sits" I personally would rather find room on my bench in favor of someone else. Of course when it comes down to week to week decisions you always start your studs, and just because I think LeGarrette Blount is "sit" worthy doesn't mean you necessarily have someone worth starting over him. Take it for what it is worth and good luck this week.
QBs
-Cam Newton(start): Cam Newton has been one of the biggest storylines in the NFL up to this point. Fortunately that storyline has also carried over into the fantasy world. Cam Newton is currently the third highest scoring QB in fantasy football due to his valuable combination of size, speed, and arm strength. Going into week five, Newton is averaging 40 pass attempts and one rushing touchdown per game. Facing an iffy secondary that is susceptible to high scoring shootouts, there isn't any reason Newton shouldn't be starting in every league.


-Mark Sanchez(start): Mark Sanchez looked absolutely miserable last week and his stat line of 11 for 35 and an interception didn't make his performance any prettier. That being said, some of the blame must be put on the Raven's defense. Possession after possession the Ravens did well exposing an ailing Jet's offensive line, constantly pressuring Sanchez to get rid of the ball early. This week Sanchez faces the Patriots defense whose front line is much more tailored for stopping the run then blitzing the passer. Expect a solid rebound from the USC product.
-Kyle Orton(sit): Last week, Kyle Orton put up his first big statistical game of the year and still managed to ruin it with three interceptions. This Sunday, Orton faces the San Diego Chargers. Take away the game that the Chargers played the New England Patriots and this secondary would probably boast the strongest defense against the pass. Kyle Orton simply does not have the skill to put up big fantasy numbers consistently, and if that isn't scary enough Tim Tebow's shadow is lurking larger behind him every week.
-Jay Cutler(sit): The matchup against the Lions seems to be a nightmare for Jay Cutler. The Bears are known for their poor protection of Cutler and should have a disastrous time trying to stop Ndamukong Suh and the rest of the Lions defensive front. The Lions also are currently boasting the fifth best fantasy defense against the quarterback. And in case you weren't watching, Matt Forte ran for 200 yards last weekend causing the Bears to finally realize they can hand the ball off in the game of football.
RBs
-Fred Jackson(start): If you own Fred Jackson and haven't been starting him, shame on you. But for those of you who I must remind, I will. Fred Jackson has been a complete beast this year putting up double digit fantasy points each week, including two weeks of 20 plus fantasy points. This week he gets his dream matchup against the miserably bad Eagles run defense. The Eagles have yet to hold opposing running backs to under 20 fantasy points so expect a big day for Jackson.


-Mark Ingram(start): After an impressive preseason Ingram has started slow and has really taken the back seat to the Saints passing game. This week begs for Ingram to produce as he lines up across from the Carolina Panthers. Last week the Panthers allowed Matt Forte, who isn't necessarily known for his between the tackles running, rush for over 200 yards. The Panthers have also given up four rushing touchdowns through four games. Ingram thrives in these goal line and red zone situations with his pounding running style, so he should have no trouble finding the pay dirt.
-LeGarrette Blount(sit): LeGarrette Blount is a brutal back who chooses to run through defenders instead of eluding them. Unfortunately this leads to a lack of versatility as he is not great outside of the tackles and doesn't catch the ball well out of the backfield. This week Blount matches up against the 49ers number one rush defense in the league, who are only allowing an average of 49 yards a game. If this doesn't scare you a way as an owner, you should note that the 49ers have also not surrendered a rushing touchdown this year which generally tends to be where Blount finds most of his value.
-Rashard Mendenhall(sit): Rashard Mendenhall has struggled throughout the first four games of the year posting a 3.0 yards per carry average. He has yet to rush for over 70 yards, only has two touchdowns, and tweaked his hamstring last Sunday which will hinder his practice time this week. The Steelers offense has been sputtering at times as a whole and with little practice time expected all of this week, Mendenhall seems unlikely to even play. Whether he plays or not Isaac Redman may be a better start.
WRs
-Jacoby Jones(start): Jacoby Jones will have to step into a number one receiver role this week with Andre Johnson likely out with a hamstring injury. Jones has only recorded one catch in the past two games, but it should be remembered Jones actually put up very good numbers down the stretch last season when Andre was hurt. Jones has good speed and decent hands that should allow him to at least break one deep.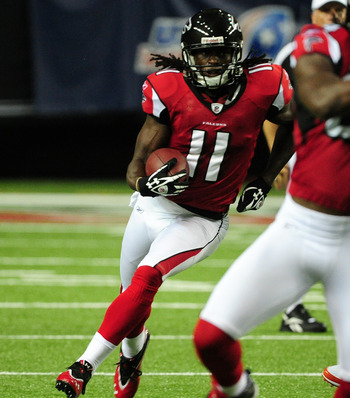 -Julio Jones(start): Julio Jones has been impressive in his rookie season debuting his talent and raw physical ability. This week Jones will be in the spotlight of the Sunday Night Football game against the Green Bay Packers. The Packers have really struggled against the pass this year, and Eric Decker, the Bronco's second receiver, had a big day hauling in two touchdowns last week against Green Bay. Expect Jones to make his name known to the nation on Sunday Night.
-Marques Colston(sit): Marques Colston missed time earlier in the year after breaking his collar bone in the opening game of the NFL season. Last week Colston only played limited time recording one catch for eight yards. Although he had another week of rest, it is hard to expect Colston to jump right back into form. It's ill advised to start Colston without seeing him perform first after coming back from the injury.
-Mike Williams TB(sit): Mike Williams put up huge numbers last year having one of the better seasons of any rookie wide receiver. Unfortunately this year he hasn't really been able to get into a groove with quarterback Josh Freeman. Not only are his yardage totals low, but he is failing to reproduce his touchdown total from last year only tallying one touchdown in his first four starts. It is hard to start Williams as anymore than a flex at this point.
TEs
-Brandon Pettigrew(start): Brandon Pettigrew has begun to prove that he is back and fully healthy as viable part of the Lions passing game. The only thing that has been holding Pettigrew back from big numbers this year is the fact that Calvin Johnson has been unstoppable in the red zone. Fortunately for Pettigrew he faces the Chicago Bears, the worst defense against the tight end, on Monday Night Football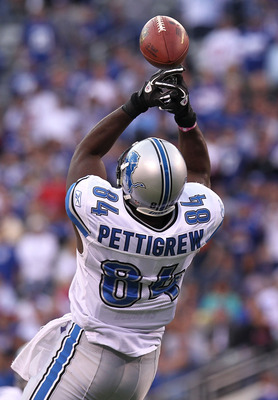 – Greg Olsen(start): Greg Olsen has been a beneficiary of Cam Newton's great start. Aside from Steve Smith, Newton seems to target his tight ends the most. Olsen and the Panthers face the New Orleans Saints who aren't the most impressive against the tight end, allowing four touchdowns to the tight end position this year. Based on the sheer number of targets Olsen receives from Cam Newton, it is only time one of them finds the end zone for six.
-Owen Daniels(sit): Owen Daniels has really begun to pick up speed tallying three touchdowns in his last three games. Despite this hot streak, owners should beware this week as Daniels faces the Oakland Raiders who are very good against the tight end. It is also yet to be seen how much the absence of Andre Johnson will affect Daniels as it could bring him much more attention defensively.
-Dustin Keller(sit): Dustin Keller has been pretty good this year and found ways to be productive in the Jets offense. With the Jets offensive line being weakened by injury it would make sense for the Jets to use Keller a lot more as a blocker especially as they reach the red zone and look to run the ball. On top of this, the Patriots are also pretty good against the tight end this year allowing only one touchdown to the position this season.
D/STs
-Giants (start): The Giants defense hasn't been anything special this year but over the past couple weeks they have made strides beginning to show that they can deal with the injuries that have hit their squad. The strength of the defense tends to be their ability to rush the passer. Playing against the Seahawks who gave up 14 sacks in their first three games, the Giants should be able to get to the quarterback especially if Justin Tuck plays.
-Eagles (sit): The Eagles defense has delivered one of the most overhyped and disappointing performances in the NFL this season. After bringing in numerous talents and big names, this defense that was expected to win them games has done nothing but the opposite. Last week they made Alex Smith look like Brett Favre, and this week they get to face arguably the top offense in the game right now when they take on the Buffalo Bills.
[poll id="57″]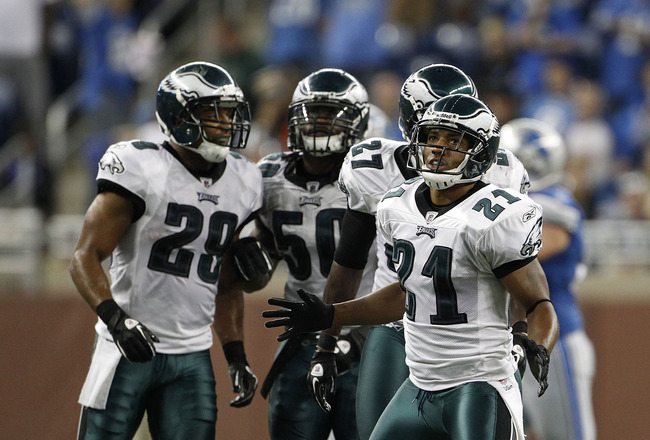 Comments
comments