Fantasy Football Start/Sit Week 4: Can Mike Vick stay healthy?
Every week of the 2011 NFL season I will be putting out an article of the top "starts" and "sits" for the upcoming week in fantasy football. Keep in mind that no one can predict what will happen on Sunday's and I encourage everyone to make their own decisions, but hopefully I can provide some insight. Players I deem as good "starts" for the week I think will have a better than projected week and should find a way into your starting lineup. On the other hand players I name as "sits" I personally would rather find room on my bench in favor of someone else. Of course when it comes down to week to week decisions you always start your studs, and just because I think Mike Vick is "sit" worthy doesn't mean you necessarily have someone worth starting over him. Take it for what it is worth and good luck this week.
QBs
-Jason Campbell(start): Jason Campbell's week to week value is strongly correlated with how well Oakland's run game performs. This week the Raiders take on the New England Patriots, where they are likely to fall behind early and not be able to stay steady with their run game. Campbell should have plenty of time to sling the ball around in the second half to try and catch up to the Patriots offense. This year the Patriots have yet to face a quarterback that they didn't allow to throw for at least 300 yards and two touchdowns. As if it couldn't get any better, Campbell also has two rushing touchdowns through three weeks accompanied by only a single interception.


-Ryan Fitzpatrick(start): Ryan Fitzpatrick is arguably the hottest NFL quarterback through the first three weeks of the season, leading his team to a 3-0 record averaging three touchdown passes per game. Although Cincinnati has been stringent against the pass, they really haven't faced anyone great in Colt McCoy, Kyle Orton, and Alex Smith. With Fitzpatrick's flaming hot start, and the Bills offense putting up an average of 38 points per game, it is about time this gun slinger becomes an every week starter.
-Joe Flacco(sit): Torrey Smith's rookie debut of five catches 152 yards and three touchdowns really made Joe Flacco look like an elite quarterback last week. Reality is, Flacco is far from it especially in the Ravens offense. Flacco takes on the Jets this week who are not only known for their secondary, but were ravaged by Darren McFadden in the run game last week. With a guy like Ray Rice in your backfield, it is hard to imagine the Ravens won't game plan to run early and often bringing Flacco's numbers back down to earth.
-Mike Vick(sit): Mike Vick isn't a sit for his talent. The guy is unreal, complete athletic freak. Unfortunately Vick is becoming more and more a riskier play. It has now been two straight weeks Vick has not been able to finish a game after being knocked out for a concussion and hand contusion respectively. McCoy is also off to an incredible year and for once it seems like the coaches are finally game planning for their running back. With Vick consistently taking 10-15 hits a game fantasy owners sit there wincing and closing their eyes praying he gets up off the turf after every play. Sadly the trend lately has been that he won't.
RBs
-Tim Hightower(start): After playing with the Arizona Cardinals for most of his career, the St. Louis Rams are a team that Tim Hightower is quite familiar with and has actually run well against. Hightower's stat line will never blow you away but in the single cut offense of the Redskins his running style and his ability to catch the ball out of the back field fits perfectly. The Rams have given up at least 130 rushing yards to every opponent they have played so far, so owners should not worry about Roy Helu's presence as there will be plenty of work to go around.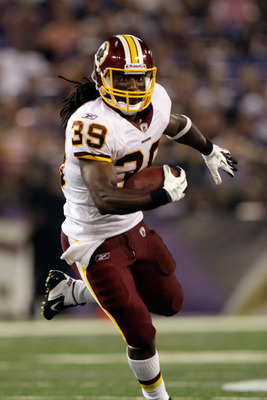 -Darren Sproles(start): This will be the second week Darren Sproles has made my running back start list and for good reason. Despite only having eight total carries on the year, Sproles has been invaluable in the pass game catching 21 balls for over a 150 yards. The Jaguars defense has been very stout against the run this year having yet to allow a rusher to go over 80 yards. This may actually benefit Sproles, as Ingram is likely to struggle and Sproles will be even more valuable to the Saints in this game.
-Frank Gore(sit): If there was one matchup for Frank Gore owners to salivate at it was against the Philadelphia Eagles undersized line backing core and lack of a run defense. The Eagles come into this game allowing the most fantasy points to running backs this year. Yet, at the same time Frank Gore will arrive in Philadelphia not only with a banged up ankle but with a miserable 2.5 yards per carry. That yards per carry average is astonishing for a back like Gore who is nearly impossible to tackle for a loss. Start him with caution, he could continue to disappoint.
-Shonn Greene(sit): Surprisingly the Jets have begun to stray away from their ground and pound style offense and part of it may be due to Greene's performance. Having yet to eclipse 60 yards rushing in a game, Greene has started the year slow. Only averaging around 14 touches a game it really seems difficult for him to get into a rhythm. Many will point out his 7 receptions last week as added value, but this more than likely will not become a trend with LaDainian Tomlinson still an important cog in the back field. And I almost forgot, Greene gets the pleasure of running against the Ravens defense this Sunday.
WRs
-Lance Moore(start): Lance Moore had a glorious welcome back party last weekend tallying nine receptions for 88 yards and a score. With Marques Colston still out and Moore finally returning to full health, he is likely to become the main guy in this pass offense for the time being. The Saints quick slant offense is a perfect match up against the Jaguars secondary, and Moore's superb route running ability should be able to take advantage of the situation. Moore is a even better start in PPR (point per reception) formats.


-Santana Moss(start): Santana Moss hasn't been a sexy start in a while, but he almost never lets fantasy owners down putting up consistent numbers week in and week out. Rex Grossman has actually been playing quite well as of late which has also benefited Moss. This week Moss and the Redskins take on the St. Louis Rams who have actually allowed an NFL high six passing touchdowns. There should be plenty of space for Moss to run his over the middle type routes and chances are against this secondary he might even find the end zone.
-Percy Harvin(sit): Percy Harvin is a dangerous player that has unbelievable versatility on the field. For some reason the Vikings organization fails to utilize Harvin's talent. Last week reports came out that Harvin was barely on the field for more than 50 percent of the Vikings offensive snaps. It is hard to start Harvin on a weekly basis when you know his touches are limited. Despite having big play ability he has yet to break one for a touchdown and the Chiefs secondary isn't as terrible as everyone has made them out to be, bottling up the Chargers elite wide receiving core last week for no touchdowns.
-Nate Washington(sit): Last week the Titans lost their best and most explosive pass catcher in Kenny Britt to a torn ACL. Naturally this means that Washington is next in line and bound to get more targets in the offense. Washington is a very underrated receiver and could have success in upcoming weeks but expectations should be tailored around this matchup. With no other dangerous receiving threats on the team the Browns are likely to stack the box and play up and coming star cornerback, Joe Haden, one on one with Washington for most of the game. Haden probably isn't a name most will recognize but he is young and has shown the talent to shut down the top receiver in his past three games.
TEs
-Mercedes Lewis(start): Mercedes Lewis has had a disappointing start to the year partially due to being banged up with an injured calf. Last week Lewis was healthy enough to play but the monsoon like weather in Carolina really shut the passing game down all together. Rookie quarterback, Blaine Gabbert, assuredly will find that Lewis can be a crucial security blanket in tough passing situations. Expect Lewis to hopefully turn things around starting this week.


-Jason Witten(start): With Miles Austin out last week, Jason Witten appeared to be Tony Romo's go to guy. Romo consistently looked for Witten at all parts of the field and especially on third downs. On top of that, the Cowboy's receivers looked absolutely lost last game, running incorrect routes, poor timing, and even lining up on the wrong side of the ball. Romo likely doesn't have much confidence in any of his receivers outside of maybe Dez Bryant and will continue to rely on Jason Witten's pass catching talents.
-Dustin Keller(sit): Dustin Keller has played well through the start of this season but unfortunately runs into the Ravens defense who has allowed the second fewest points to opposing tight ends this year. Wide receiver Santonio Holmes also was unhappy with his lack of targets the past two weeks, so expect Mark Sanchez to find him more often. Keller will continue to have a solid year but this week might be a struggle he can't overcome.
-Brandon Pettigrew(sit): Brandon Pettigrew finally came around having a big day last week with over a hundred yards receiving. This may not necessarily be a trend going forward. Lions coach Jim Schwartz stated after the game that Pettigrew's heavy usage was for most part to make up for the lack of a running game the Lions had against the Vikings. With this statement and quarterback Matthew Stafford locked onto Calvin Johnson in the red zone, it is hard to feel confident with Pettigrew going forward.
D/STs
-Falcons (start): The Falcons defense hasn't produced any big weeks yet but they have played against some relatively good offenses. In case you weren't aware the Seahawks are not a good offense. Tavaris Jackson scares no one, and Marshawn Lynch is nothing more than a one hit wonder. Opposing fantasy defenses playing the Seahawks this year have scored double digit points every time. What more could you ask for?
-49ers (sit): For the most part outside of the top four to five defenses, fantasy is all about playing the matchups. This can be seen in the 49ers defense as they faired well against the Rams and the Bengals, but not so much against Tony Romo. With Vick always being a danger, and McCoy running out of his cleats right now it is smart to stay away this week.

Comments
comments