Getting Weird on the Red Carpet: Met Gala 2017
Featuring celebrities, young creatives, and fashion industry titans, this year's theme for the 2017 Met Gala challenged all who attended on Monday. The gala honored Rei Kawakubo, whose work has blurred the lines between art and fashion, and her brand Comme des Garçons last night.
Formally known as the Metropolitan Museum of Art Costume Institute benefit, the Met Gala is a black-tie event to raise money for the Costume Institute, the only curatorial department that has to fund itself. Dubbed as "fashion's biggest night out," for the elaborate red carpet featuring dozens of celebrity guests and pricey tickets, fashion lovers live for this day.
The party signifies the grand opening for the Costume Institute's annual show that features a theme each year. This year's exhibition is "Rei Kawakubo/Comme des Garçons: Art of the In-Between." The hosts include Vogue Editor in Chief Anna Wintour, Tom Brady, Gisele Bundchen, Katy Perry and Pharrell Williams; honorary chairpersons include the titular Kawakubo and Caroline Kennedy, former U.S. ambassador to Japan.
Kawakubo is a 74-year-old Japanese designer who founded her label, Comme Des Garçons, in 1969.  She has routinely made lists as one of the "most influential designers of the 20th century." Her work refuses to accept any rules that govern traditional clothing design, such as having armholes or considering "flattering" silhouettes.  Instead, she chooses to challenge the ideas of what defines beauty, identity, and gender; often venturing into the realm of the avant-garde, or for the public, clothes that look weird. She answers the question: Is fashion art?
Besides her interest in the avant-garde, Kawakubo runs a multi-million dollar international brand, with wearable pieces and regularly collaborates with Nike and Speedo. Her work is seen on many t-shirts featuring a google-eyed heart logo, and she owns all the Dover Street Markets around the world.
Many invitees had to find balance in this year's dress code: how to pay homage to the avant-garde designer while still bringing glamor.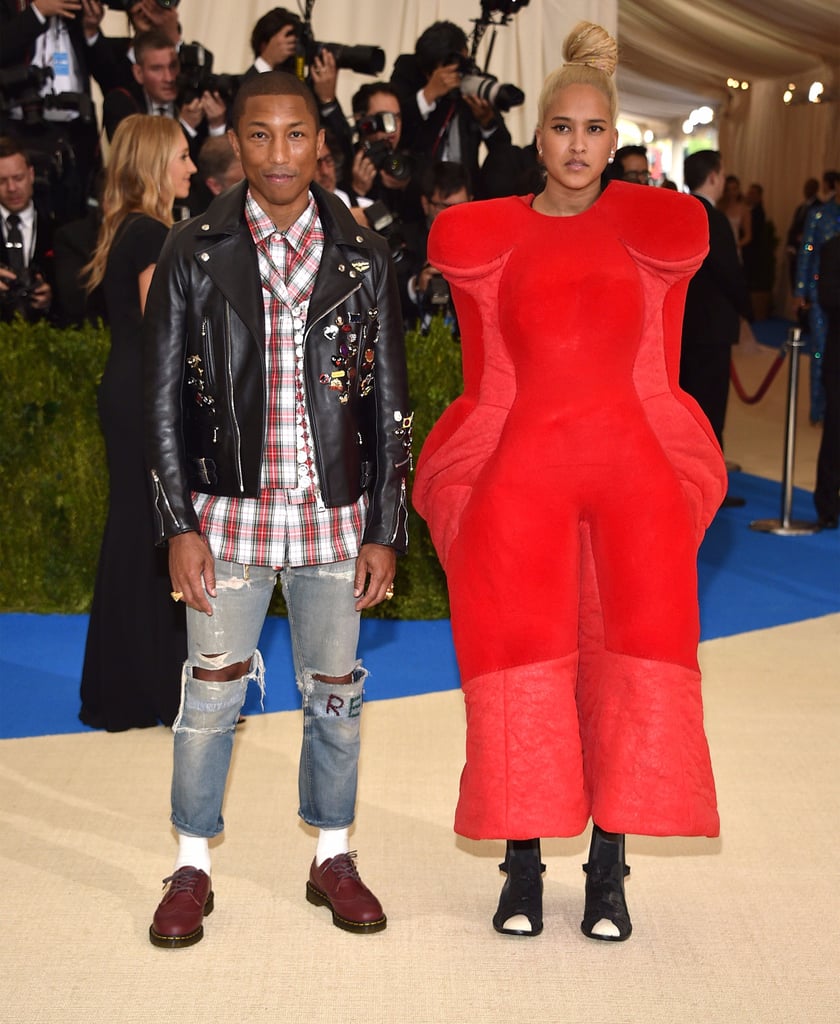 Rihanna nailed the avant-garde theme with a ballet-like dress structured with fungus-like ruffled fabric. Pharrell Williams took a bold move wearing ripped jeans with "Rei" inked on the knee and plaid shirt with a motorcycle jacket; his wife, Helen Lasichanh, wore a red jumpsuit that flattened the body and had no armholes. Michele Lamy, the partner of controversial designer Rick Owens, wore giant red and pink vinyl waves.  Actress Tracee Ellis Ross wore a sapphire coat dress that elegantly skewed her proportions and Caroline Kennedy wore a massive floral tiered piece.
Many wore Comme des Garçons, one of the few brands at the Met Gala to have no "face" or "ambassador" and does not pay celebrities to wear its clothing. Many celebrities attending wore other brands that paid inspiration to the collection.
Nicki Minaj wore H&M satin shorts with a flowing cape-like red and black kimono dress (even featuring a little homage to Kawakubo on the black obi belt). Katy Perry's look as an event co-chair was perfect, a Maison Margiela Artisanal red trench with an ethereal floor-length veil. Though Jaden Smith wore a simple black Louis Vuitton suit, he clutched his recently cut-off dreads as an accessory that confused many.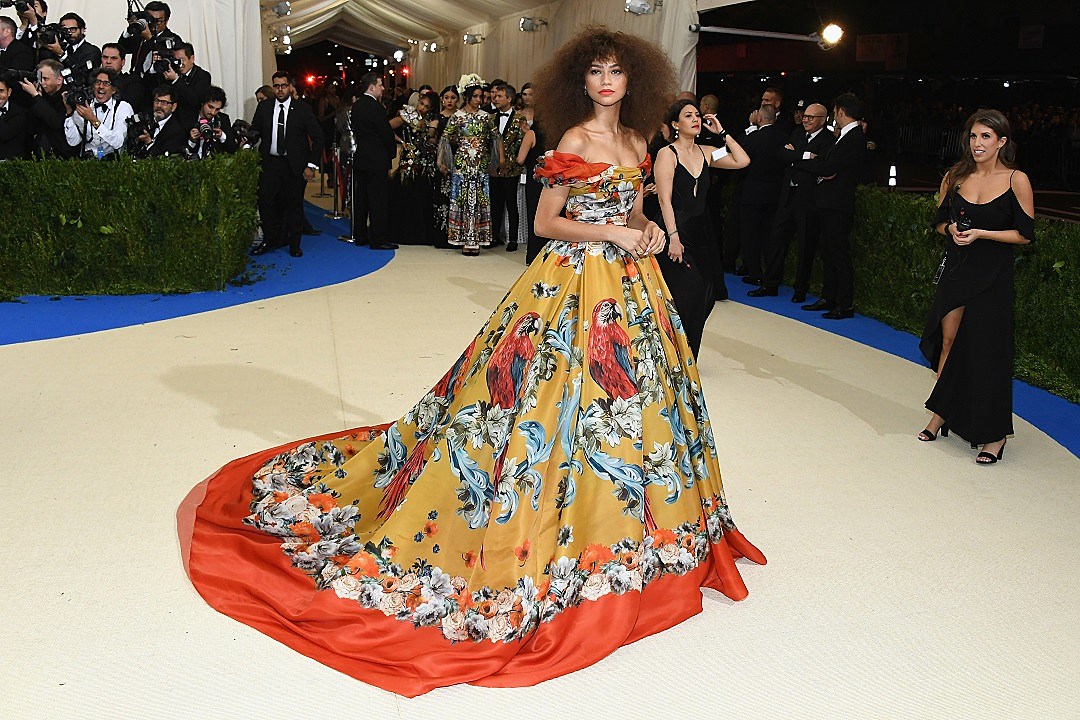 Many guests shied away from the theme. Common trends were pastel colors, feathers, one shoulder dresses, cutouts and occasionally large gowns.  Elle Fanning wearing an ice-blue princess gown by Miu Miu. Zendaya served Tropicana fantasy from Dolce & Gabbana. Kim Kardashian kept it simple this year with a white dress revealing only her shoulders. Madonna was invisible in a camo dress. Anna Wintour stuck to Chanel as she always has.
Even Kawakubo herself ignored the theme, an avant-garde notion in itself. She stuck to a simple outfit of a white jacket and black shirt with sneakers. Her party, her rules.
Comments
comments