5 Biggest Struggles of a Busty Girl
Boobs: they come in all shapes and sizes, each with their own issues and struggles. However, being big chested (like myself) you deal with some daily conflicts. Here are just five of the biggest struggles busty girls face.
1.) Permanent Food Catcher
So you sit down to watch a movie with your crush while also enjoying a big bowl of popcorn. Just 15 minutes into it, you look down to see whole popcorn kernels have fallen into the abyss of your cleavage. You think to yourself, "I am wearing a t-shirt, how did that even get down there?!?!" Quickly you grab what you can and when no one is looking you eat the evidence. Food getting lost in between your girls is a common and daily problem. The upside though, you'll always have snack for later!
2.) Shirts Never Button Right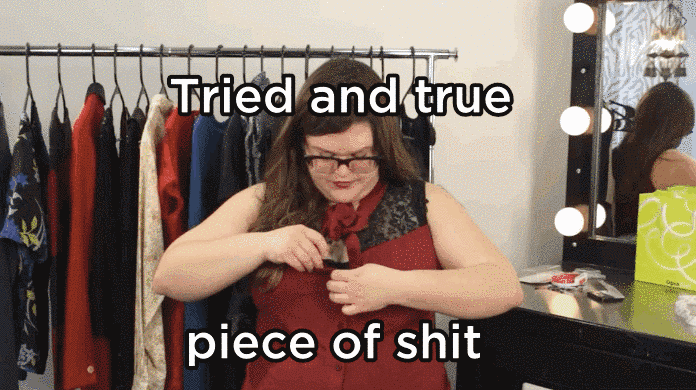 It's a simple girl's day at the mall when you see it. The absolute perfect top that you could definitely wear to that thing you have next week. You find your size, take it to the dressing room, try it on and then you look in the mirror. You scan from the bottom up, things are looking good until you get to the middle of your chest a see a big gaping hole. No matter how you pull it or adjust the fabric it will not go away, and you are left in despair. It's a sad truth that we can't wear this style of shirt, but, hey, we can rock a fitted tee any day of the week.
 3.) Ugly Bras
One of a woman's favorite time of year is the big bra sale at Victoria's Secret. You decide it's time to "treat cho self" and get a nice, new bra. You scan the big boxes desperately looking for your size and only see 32 A, you know that won't even cover your right nipple. After asking one of the sales women, you are directed to the back of the store. Not only are those bras not on sale, they are ugly! Why can't we have lacy bras? Why do they all have to be nude or have old lady flowers? This struggle is unreal, not to mention heart breaking. Not to worry though, sometimes looking online is all you need to find not only your size but your style.
4.) Never Receiving Eye Contact
This is one of the most annoying and unfortunately common disadvantages to being a busty girl. When meeting someone new, particularly with the other gender, you introduce yourself only to be met with their eyes glued to you. No, I'm not talking about your face. They are staring directly at your chest. I'm not sure if they are trying to have a staring contest with them or what but hey my eyes are up here, Bub!
5.) Constant Back Pain
Carrying around two giant lumps on your chest can get heavy throughout the course of the day. As a result, your lower back and in between your shoulders are constantly aching. No matter how much support you have it still rears its ugly head. It's important to get frequent massages either professionally or from a significant other to help soothe the pain. If pain persists however, consider talking with a doctor on possible options such as reduction.
These are just the surface of the struggles us big booby girls face in our lives. However, they are a part of us and we need to learn to love them. Flaunt what you got girls because you're rocking it! Comments
comments