2012 NHL All-Star Weekend
Things are heating up for the 2012 NHL All-Star weekend starting Saturday January 28th

The NHL's best returned to the roots of the game on Thursday night when a backyard style fantasy draft took place. Captains, Zdeno Chara and Daniel Alfredsson, took turns individually picking players to complete their teams made up of three goalies, six defensemen, and 12 forwards. Detroit Red Wings forward, Pavel Datsyuk took the honor and bragging rights of being selected first overall by Team Chara, while San Jose Shark center, Logan Couture, was left standing all alone as the last pick of the draft to complete Team Alfredsson. Alfredsson was able to select all Ottawa Senators at the All-Star game that will surely provide a home ice advantage for the game is being held in Ottawa. Chara's team boasts many of the NHL's top goal scorers with the likes of Evgeni Malkin, Corey Perry, and Jarome Iginla, all who have mastered the art of lighting the lamp. Full team rosters are listed below:
Team Chara

1. Pavel Datsyuk, F
3. Tim Thomas, G
5. Evgeni Malkin, F
7. Marian Hossa, F
9. Kimmo Timonen, D
11. Corey Perry, F
13. Carey Price, G
15. Phil Kessel, F
17. Ryan Suter, D
19. Jimmy Howard, G
21. Brian Campbell, D
23. Patrick Kane, F
25. Dion Phaneuf, D
27. Jarome Iginla, F
29. Dennis Wideman, D
31. Marian Gaborik, F
33. Jordan Eberle, F
35. Tyler Seguin, F
37. Jamie Benn, F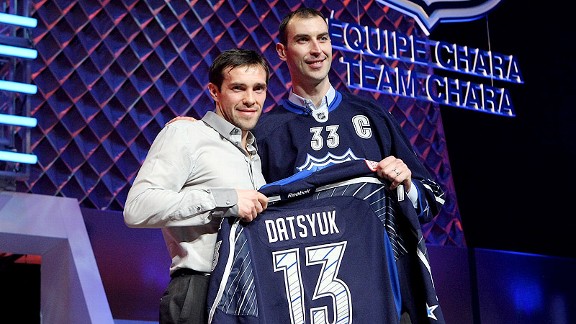 Team Alfredsson

2. Erik Karlsson, D
4. Jason Spezza, F
6. Jonathan Quick, G
8. Claude Giroux, F
10. Kris Letang, D
12. Steven Stamkos, F
14. Brian Elliott, G
16. Shea Weber, D
18. Daniel Sedin, F
20. Dan Girardi, D
22. Keith Yandle, D
24. Milan Michalek, F
26. Henrik Sedin, F
28. James Neal, F
30. Alexander Edler, D
32. John Tavares, F
34. Scott Hartnell, F
36. Jason Pominville, F
38. Logan Couture, F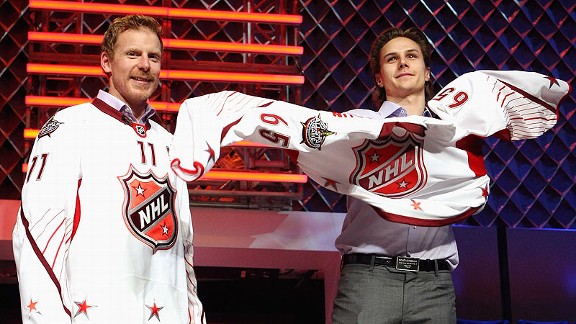 Saturday Night will give the league's best players a chance to showcase their talents in the 2012 Molson Canadian NHL All-Star Skills Competition. Both a player and fan favorite, specific players selected by their captains will compete for Fastest Skater, Breakaway Challenge, Accuracy Shooting, Skills Challenge Relay, Hardest Shot, and an Elimination Shootout.
With an abundance of talent, skill, and flair the game is guaranteed to provide lots of goals and excitement for both hockey fans and casual viewers alike. Sunday will bring this special weekend to a close with the playing of the 2012 NHL All-Star game at 4 o clock.
Comments
comments